BALTIMORE, MD (Wednesday, March 1, 2023) – Baltimore Metropolitan Council (BMC) is seeking comments on plans for a six-mile trail connecting the Guinness Open Gate Brewery to Southwest Area Park in Baltimore County. A comment period on the plans will close on March 30, 2023 and include a public meeting at the Halethorpe Community Center on March 14.
The segment will be part of the Patapsco Regional Greenway (PRG), an envisioned 40-mile shared-use trail connecting Baltimore's Inner Harbor to Sykesville in Carroll County along the Patapsco Valley. To date, over 12 miles of the PRG are complete.
BMC is set to complete a 30 percent design plan for the six-mile Guinness to Southwest segment later this year. Working with Baltimore County, BMC will review comments on four alternatives for the trail and identify a preferred alignment. This preferred alignment will be finalized after additional public review, and the resulting 30 percent design plan will carry the project to final design and construction.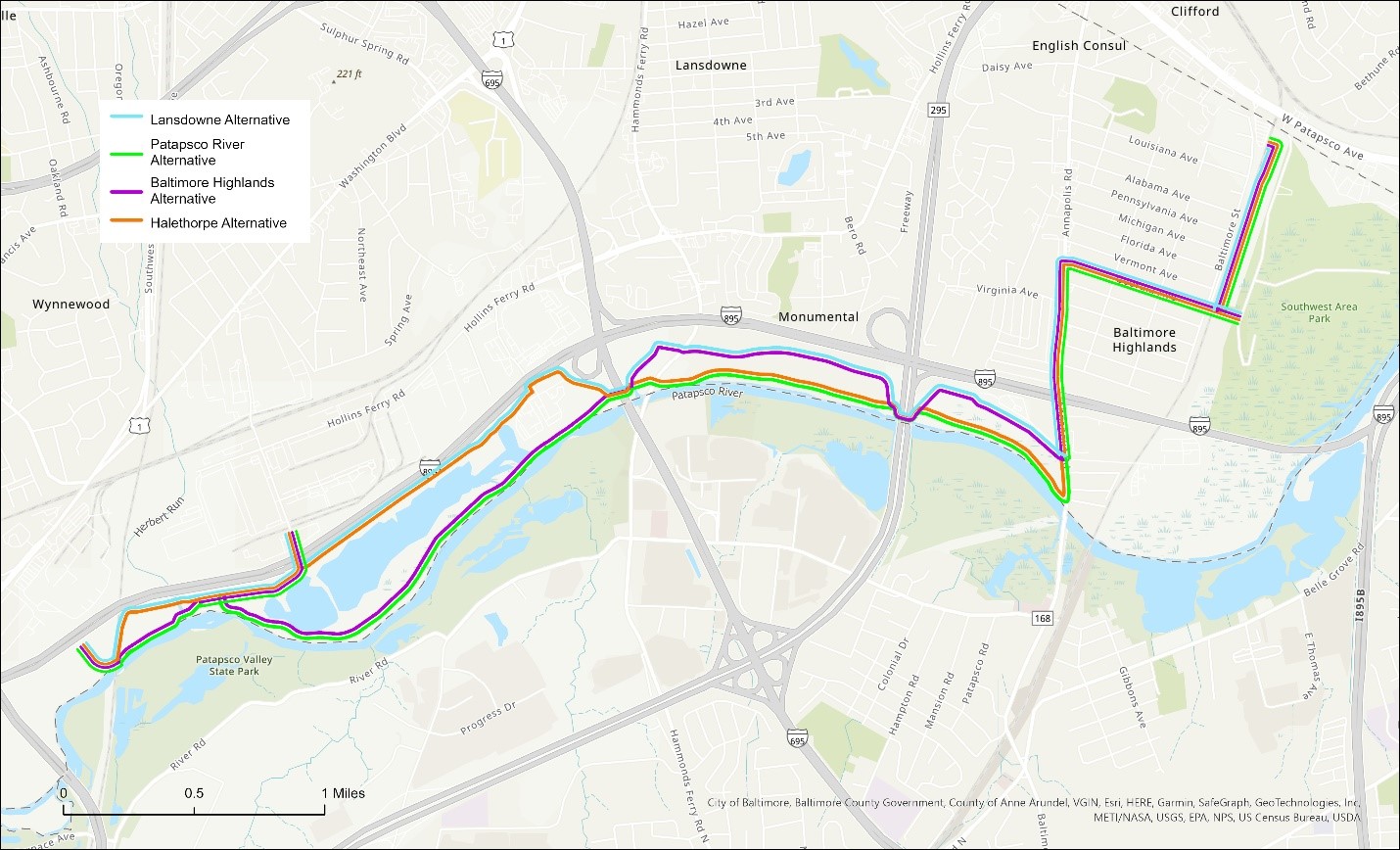 Learn more about the project details at publicinput.com/prgswareapark.
Members of the public are encouraged to share comments on the proposed alternatives by Thursday, March 30. Anyone wishing to discuss the project in more detail is welcome to join a public meeting at the Halethorpe Community Center on March 14 from 6:00-7:30 p.m. Those who cannot attend can view materials from the meeting at publicinput.com/prgswareapark.
Ways to comment include:
Text: keyword prgswareapark to 73224

Voicemail: 855-925-2801 x 3619

Online: publicinput.com/prgswareapark

Social media: @BaltoMetroCo

Public meeting: March 14, 6:00-7:30 p.m. at the Halethorpe Community Center, 1900 Northeast Ave, Baltimore MD 21227
###
Baltimore Metropolitan Council (BMC) works collaboratively with the chief elected officials in the region to create initiatives to improve quality of life and economic vitality. As the Baltimore region's council of governments, BMC hosts the Baltimore Regional Transportation Board (BRTB) and supports local government by coordinating efforts in a range of policy areas including emergency preparedness, housing, cooperative purchasing, environmental planning and workforce development.
BMC operates its programs and services without regard to race, color or national origin in accordance with Title VI of the Civil Rights Act of 1964 and other applicable laws. Appropriate services can be provided to qualified individuals with disabilities or those in need of language assistance who submit a request at least seven days prior to a meeting. Call 410- 732-0500. Dial 7-1-1 or 800-735-2258 to initiate a TTY call through Maryland Relay. Si se necesita información de Título VI en español, llame al 410-732-0500.