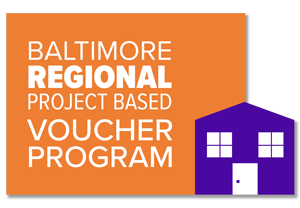 In 2016, six Baltimore-area public housing authorities came together with the Baltimore Metropolitan Council and the Baltimore Regional Housing Partnership to create an innovative new way to link low-income families to the opportunity of our region. Supported by a seed grant from the U. S. Department of Housing and Urban Development (HUD) to the Howard County Housing Commission, the collaboration created the Baltimore Regional Project-Based Voucher (PBV) Program. Our collaboration has released at least one request for proposals (RFP) each year from 2016 through 2022, and we are now sustaining the program beyond the HUD seed grant.
About the Program
Partner agencies have committed 193 housing vouchers to the Baltimore Regional PBV Program, adding 93 vouchers in 2020 to the original pool of 100 from 2016. Those vouchers will be project-based to encourage affordable housing development in areas of opportunity in the Baltimore region. So far 113 vouchers awarded by the program are either in use or awarded to homes that are under construction or moving toward construction. (See below for more detail.) Through periodic RFPs, affordable housing developers and owners of existing properties are able to apply in one place for subsidies that can be used in our six participating jurisdictions: the Cities of Baltimore and Annapolis as well as Anne Arundel, Baltimore, Harford, and Howard Counties. More than 30 families that were at the top of participating housing authorities' housing choice voucher waiting lists are now living in opportunity-area apartments around the Baltimore region made possible by this program.
This collaborative effort is chaired by Housing Authority of Baltimore City Senior Vice President Corliss Alston. Vice chair is Harford County Community Development Administrator Barbara Richardson.
The program supports family housing in high opportunity areas of the region, as defined by the Baltimore Regional Housing Partnership. Families participating in this program will be eligible for substantial housing mobility counseling from the Baltimore Regional Housing Partnership, both before and after moving to their new home. That counseling will include assistance with any credit issues, family budgeting, and guidance on working with property owners and managers, and rights and responsibilities as a tenant.
Local Partner Agencies
 

Baltimore County Office of Housing

Baltimore Metropolitan Council

Baltimore Regional Housing Partnership

Harford County Housing and Community Development

Housing Authority of Baltimore City

Housing Authority of the City of Annapolis

Housing Commission of Anne Arundel County

Howard County Housing Commission
Proposals for our latest RFP were due August 7, 2020. We invite you to review our materials to familiarize yourself with our program in preparation for RFPs in future years. You can follow these links to review our July 2020 RFP, Questions & Answers, Pre-Proposal Conference slides, and Pre-Proposal Conference attendance.
Referrals to Homes Will Come from Existing Housing Authority Waiting Lists
When homes attached to the project-based vouchers awarded by this program are ready to live in, our program will make referrals from the housing choice voucher waiting lists of the partner public housing authorities listed above. Most of those waiting lists are closed, with only the Housing Commission of Anne Arundel County and Harford County accepting applications. (You do not need to live in a jurisdiction currently to apply for a voucher there.) If you are currently on one or more of our partner housing authorities' housing choice voucher waiting lists, you are already in line to participate in our Regional Project-Based Voucher Program.
If you are not already on a waiting list, or need assistance sooner, we suggest that you contact the United Way of Central Maryland by calling 211 or going to this web site. You can also go to www.MdHousingSearch.org, an online database sponsored by the Maryland Department of Housing and Community Development that has a focus on affordable rental homes. Finally, if a member of your household has a disability, you can also contact Disability Rights Maryland, either through their web site or by calling (410) 727-6352 ext. 0.
Public Notice - Award of Project-Based Vouchers
Any partner agency in this Program who anticipates involvement in any proposal to this Program is recused from development of the RFP and award decisions. The Howard County Housing Commission was recused from the 2017-2020 awards below because of involvement or potential involvement in a proposal. 
APRIL 2022 AWARD:
Twenty (20) to J. Kirby Development for Station Overlook in Savage.
May 2020 Awards:
Ten (10) to Blenheim Run I, LP for Village at Blenheim in Havre de Grace

Eight (8) to Conifer Realty, LLC for North Odenton Apartments in Odenton

Eleven (11) to MBID of Delaware, LLC (Ingerman) and Housing Initiative Partnership, Inc. for Willows at Forest Drive in Annapolis
April 2019 Award:
Twenty (20) to the Howard County Housing Commission for Artist Flats at New Cultural Center.
May 2018 Awards:
Five (5) to Homes for America for Homes for Fountain Green in Bel Air

Two (2) to Homes for America for Red Maple Place in Towson

Eight (8) to Woda Cooper Development, Inc. for Robinson Overlook in Columbia

Eight (8) to Woda Cooper Development, Inc. for Brock Bridge Landing in Jessup
November 2017 Awards:
Fifteen (15) to Volleyball House Apartments, LLLP for Riverwatch II in Elkridge

Six (6) to Towne Courts LLC in Annapolis