Safety Subcommittee
Through the BRTB's Regional Safety Subcommittee, BMC provides assistance for highway safety planning. The Subcommittee and BMC staff work on a variety of topics including:
Develop and implement regional safety campaigns such as the LOOK ALIVE pedestrian and bicycle safety campaign.
Support the Maryland Department of Transportation Motor Vehicle Administration's Maryland Highway Safety Office (MHSO) in developing and implementing Strategic Highway Safety Plans (SHSPs).
Bring together staff from federal, state and local jurisdictions representing the 4 Es (engineering, education, enforcement, and EMS) towards reducing crashes, fatalities, and injuries on all roads utilizing the Safe System Approach.
Provide resources such as grant funding opportunities, information sharing, and outreach material.
The Baltimore region experiences a significant proportion of the State's traffic crashes, injuries and fatalities. Over the last five years where data are complete, 2018-2022, approximately 49% of pedestrian and bicyclist fatalities in Maryland occurred in the Baltimore region and 58% of pedestrian and bicyclist injuries. That was an average of 67 fatalities and 1,993 injuries each year, which are unacceptable numbers. In an effort to attack the dangers on our roads, the Baltimore Regional Transportation Board supports using the Safe System Approach and its six principles and five elements. The Safe System Approach is designed to prevent crashes and minimize the severity of crashes that do occur. The BRTB worked with a consultant in FY 2023 to develop guidance for incorporating the Safe System Approach into local safety planning processes.
Safe System Approach Guidance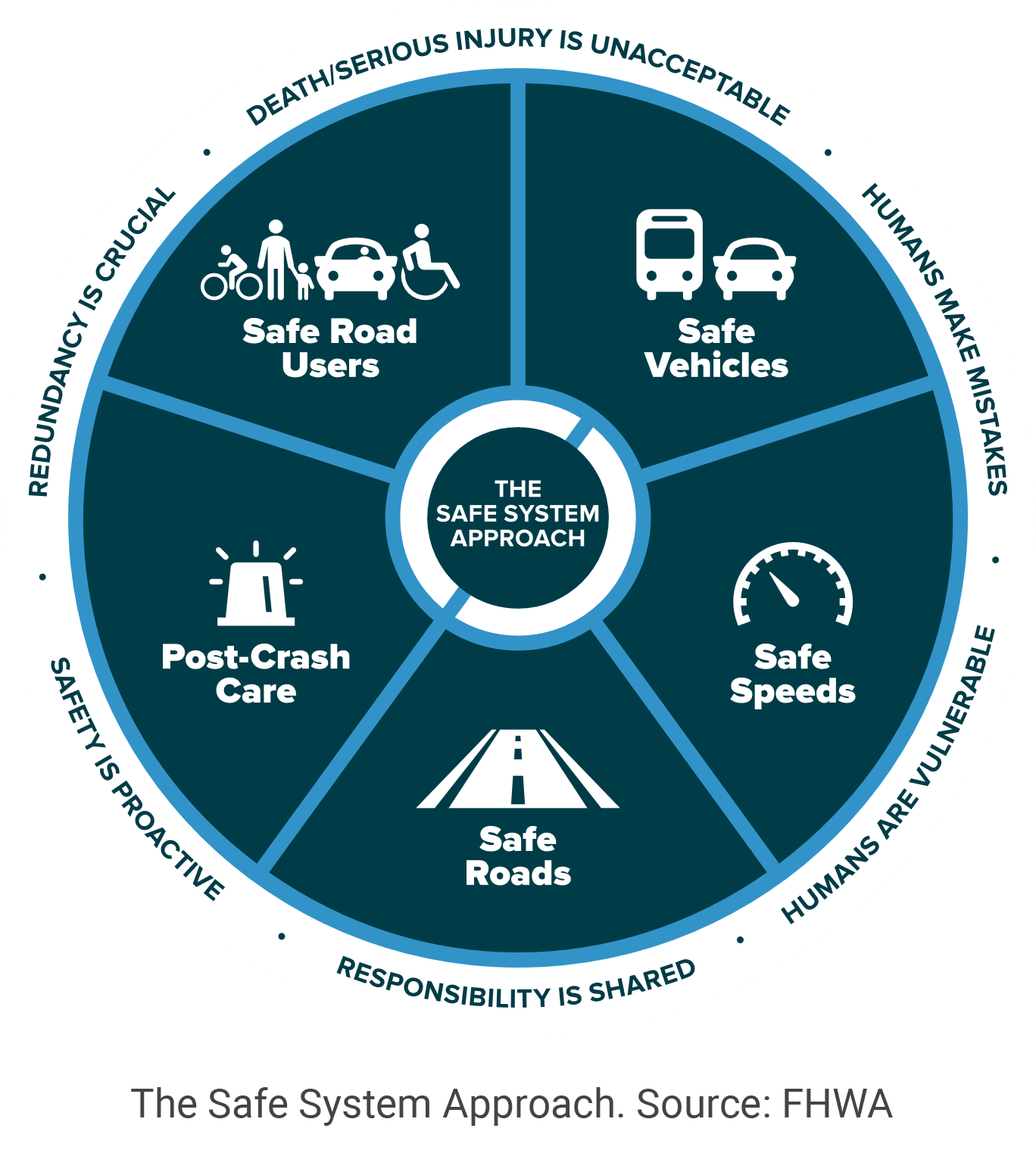 The Safe System Approach is a holistic framework for achieving the goal of eliminating fatal and serious injury crashes. It is based on six foundational principles: deaths and serious injuries are unacceptable, humans make mistakes, humans are vulnerable, responsibility is shared, safety is proactive, and redundancy is crucial. Additionally, the Safe System Approach involves five key elements to achieve zero fatal and serious injury crashes: safe roads, safe speeds, safe vehicles, safe road users, and post-crash care. The graphic shows the framework for the Safe System Approach, its principles, and its key elements.
The Federal Highway Administration (FHWA) has adopted the Safe System Approach to eliminate fatal and serious injuries for all road users. Similarly, the Institute of Transportation Engineers (ITE) promotes the Safe System Approach to road system owners and operators to design, build, and operate safer roads.
Between November 2022 and February 2023, the Baltimore Metropolitan Council (BMC) held three workshops with staff from Baltimore County, Carroll County, and the City of Baltimore to understand how the Safe System Approach principles and elements are being integrated into the current planning and implementation efforts at each agency and throughout the region.
The project deliverables address challenges identified during the workshops and provide best practices, case studies and guidance to address these common challenges. The files are a resource for BMC and its member agencies to identify strategies that can be implemented through regional and local efforts that follow the Safe System Approach.
The three documents are:
Best Practices
This memo outlines common challenges identified during the workshops and provides best practices and resources to address these common challenges.
Case Studies
The challenges, as articulated by staff at agency workshops, are summarized into sections that describe how agencies facing similar challenges in other US municipalities approached the challenges and implemented the Safe System Approach.
Guidelines 
Strategies were developed to support integration of successful practices and solutions to challenges as local agencies institutionalize the Safe System Approach in safety programs.
Performance Measures and Targets
Since January 2018, the BRTB has adopted short-term yearly highway safety targets in accordance with regulatory guidance and advice received by FHWA and in coordination with MDOT. The current annual targets were adopted in Resolution #23-11. Previous resolutions with older annual targets can be found in Related Documents to the right.
Safety Scoring Criteria for Long-Range Transportation Plan Projects
Proposed projects receive both a policy and a technical score. BMC staff scores each of the proposed projects for technical merit, based on consistency with regional goals and strategies. In the most recent Long-Range Transportation Plan (Resilience2050), safety scores were increased and incorporated alignment with local Strategic Highway Safety Plans (SHSP) and equity. Appendix B of Resilience2050, the 2023 regional long-range transportation plan, provides details on the scoring process to evaluate candidate projects. This discussion includes details on the scoring criteria related to highway safety. There is an ongoing effort to enhance the scoring criteria.
Strategic Highway Safety Plan
Maryland's 2021-2025 Strategic Highway Safety Plan (SHSP) is developed around performance measures and effective strategies to achieve long-term goals. BMC continues to collaborate with MHSO to support Zero Deaths Maryland.
Achieving these goals will require a sustained and steadfast commitment from state and local agencies and key safety partners. SHSP stakeholders are crucial to improving roadway safety in Maryland through implementing the strategies and action steps related to the Four Es of Traffic Safety (Engineering, Enforcement, Education, and Emergency Medical Services) and utilizing the Safe System Approach.
Since August 2018, BMC has housed a dedicated safety planner, funded in large part by MHSO, to assist local members of the BRTB in developing, implementing, and evaluating local SHSPs. All BRTB jurisdictions have plans in place that may contribute to an SHSP process. Six of the seven jurisdictions are implementing SHSPs and all seven will be doing so in 2024. Several BRTB jurisdictions have been awarded Safe Streets and Roads for All grant funding from USDOT.
Safety Campaigns
A major safety outreach project in the region is the Look Alive pedestrian education and outreach campaign. In collaboration with, and funding from, the MHSO, Look Alive was launched in 2019 as a regional program that includes education, enforcement and media outreach focused on pedestrian and bicyclist safety.