BALTIMORE, MD (Wednesday, January 25, 2023) – Baltimore Metropolitan Council (BMC) is close to finalizing a concept plan for bicycle and pedestrian improvements along a stretch of US 40 in Harford County. A public comment period on two alignment options will close on February 22, 2023, and will include a public open house at the Havre de Grace Community Center on February 9.
Both options propose a shared-use path along a five-mile segment of US 40 (Pulaski Highway) between the Aberdeen Train Station in Aberdeen and Erie Street in Havre de Grace. One option proposes a path entirely along the westbound side of US 40. The other option includes a path from Aberdeen along the westbound side of US 40, a crossing at Lewis Lane in Havre de Grace and continued path to Erie Street along the eastbound side of US 40.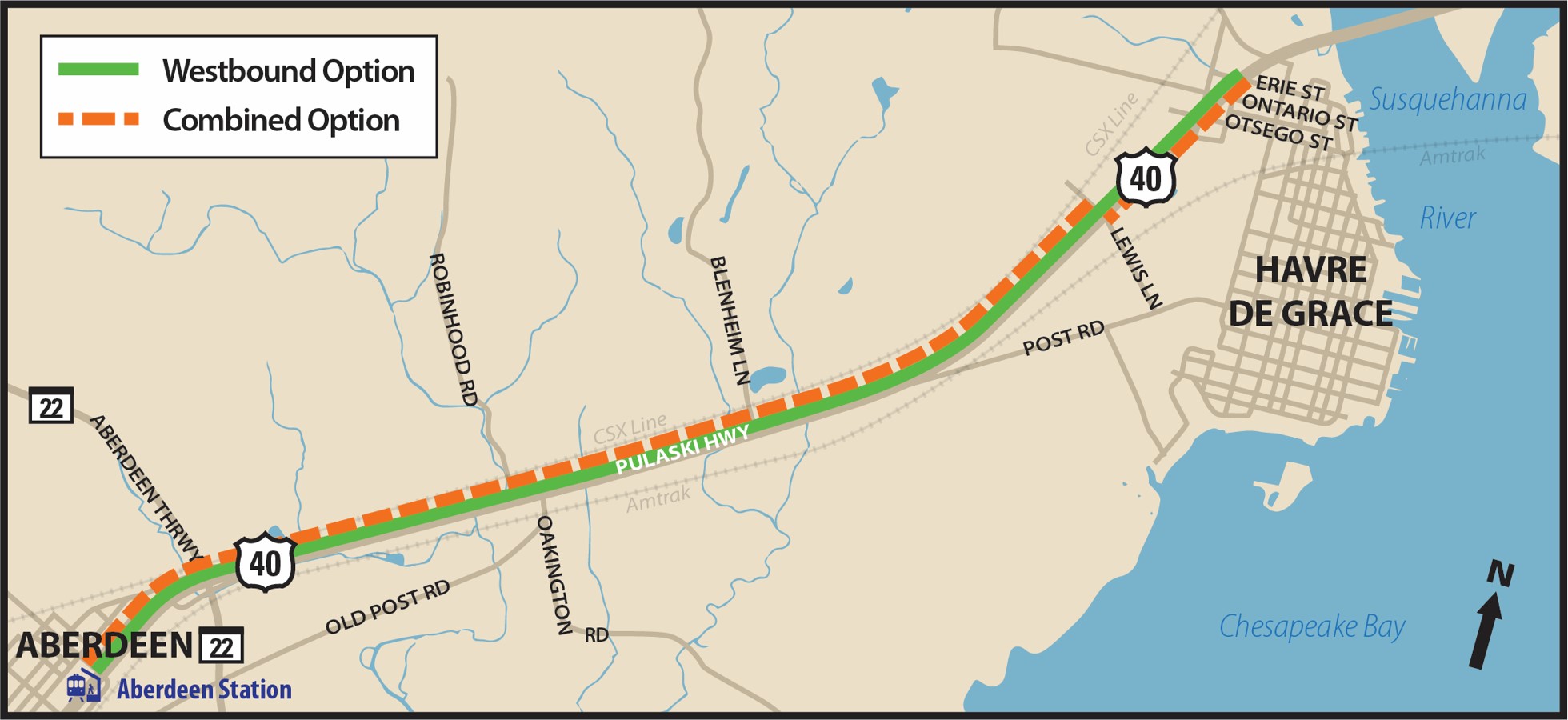 BMC concluded a comment period on initial options in November 2022, which included an online survey with 483 responses and a virtual meeting on November 2. The final options were refined based on feedback from those public outreach efforts, and the additional comment period will help ensure that all stakeholders have a voice in finalizing a preferred concept.
Learn more about the project details at publicinput.com/us40bikeped.
Members of the public are encouraged to share comments on the two proposed options by Wednesday, February 22. Anyone wishing to discuss the project in more detail is welcome to join us at the Havre de Grace Community Center on February 9 from 6:00-7:30 p.m. Those who cannot attend can view materials from the meeting on the project webpage.
Ways to comment include:
Email:

us40bikeped@publicinput.com

Text: keyword us40bikeped to 73224

Voicemail: 855-925-2801 x 4009

Online:

publicinput.com/us40bikeped

Social media: @BaltoMetroCo

Public meeting: February 9, 6:00-7:30 p.m. at the Havre de Grace Community Center, 100 Lagaret Lane, Havre De Grace MD 21078
###
Baltimore Metropolitan Council (BMC) works collaboratively with the chief elected officials in the region to create initiatives to improve quality of life and economic vitality. As the Baltimore region's council of governments, BMC hosts the Baltimore Regional Transportation Board (BRTB) and supports local government by coordinating efforts in a range of policy areas including emergency preparedness, housing, cooperative purchasing, environmental planning and workforce development.
BMC operates its programs and services without regard to race, color or national origin in accordance with Title VI of the Civil Rights Act of 1964 and other applicable laws. Appropriate services can be provided to qualified individuals with disabilities or those in need of language assistance who submit a request at least seven days prior to a meeting. Call 410- 732-0500. Dial 7-1-1 or 800-735-2258 to initiate a TTY call through Maryland Relay. Si se necesita información de Título VI en español, llame al 410-732-0500.