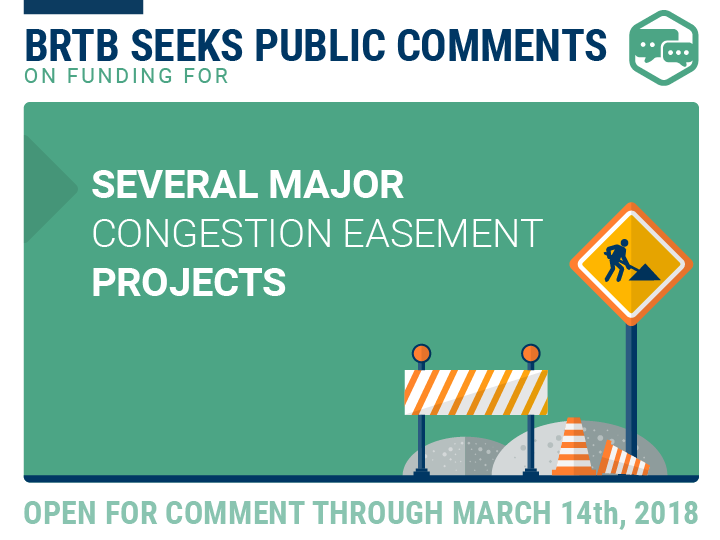 BALTIMORE, MD (February 12, 2018) – The Baltimore Regional Transportation Board (BRTB) welcomes comments through Wednesday, March 14, on new projects and funding updates to the 2018-2021 Transportation Improvement Program (TIP) and/or Maximize2040: A Performance-Based Transportation Plan for five Maryland State Highway Administration (SHA) projects and one Maryland Transportation Authority (MDTA) project.
The BRTB is scheduled to vote on the amendments on Tuesday, March 27, at 9 a.m. The BRTB also will host public meetings on Monday, February 26; Tuesday, February 27; and Monday, March 1.
About Maximize2040 and the TIP
Maximize2040 is this region's $12.5 billion long-range transportation plan developed by the BRTB. Maximize2040 serves as the blueprint for fiscally constrained transportation planning in the Baltimore region from the year 2020 to 2040. The plan also establishes the region's broad transportation goals and performance measures, which now serve as guiding principles as the region plans and carries out projects.
The 2018-2021 TIP is the list of regional transportation projects requesting federal funding in the near term. It includes more than $3 billion in proposed federal, state and local money for highway, transit, bicycle and pedestrian projects during the next four years. The funding goes towards maintaining, operating and expanding the transportation system. The TIP is fiscally constrained.
Updates occur in Maximize2040 and the 2018-2021 TIP because of changes to project scope and funding or changes to federal documentation policies. Public comment periods and meetings aim to keep communication open regarding these changes.
###