BALTIMORE, MD (Friday, May 26, 2023) – Bike to Work Central Maryland wrapped its 26th annual festivities in the Baltimore region with a record number of events connecting riders around the Baltimore region throughout Bike to Work Week, which ran May 15-21.
The packed slate of programs included over a dozen Pit Stops marking National Bike to Work Day, plus more than 30 bike shops around the region joining as Pickup Spots. Registration was on par with last year's 25th anniversary celebration, continuing a resurgence after two years disrupted by the pandemic as riders geared up and rolled out together again.
Bike to Work Week is a campaign that celebrates bicycling as a healthy commuting option while promoting public awareness of its safety and environmental benefits. Bike to Work Week helps raise awareness of the rules of the road for drivers, pedestrians, and cyclists, and also highlights the need to improve bicycle facilities to improve safety. Baltimore Metropolitan Council (BMC) coordinates Bike to Work MD along with many other regional safety initiatives.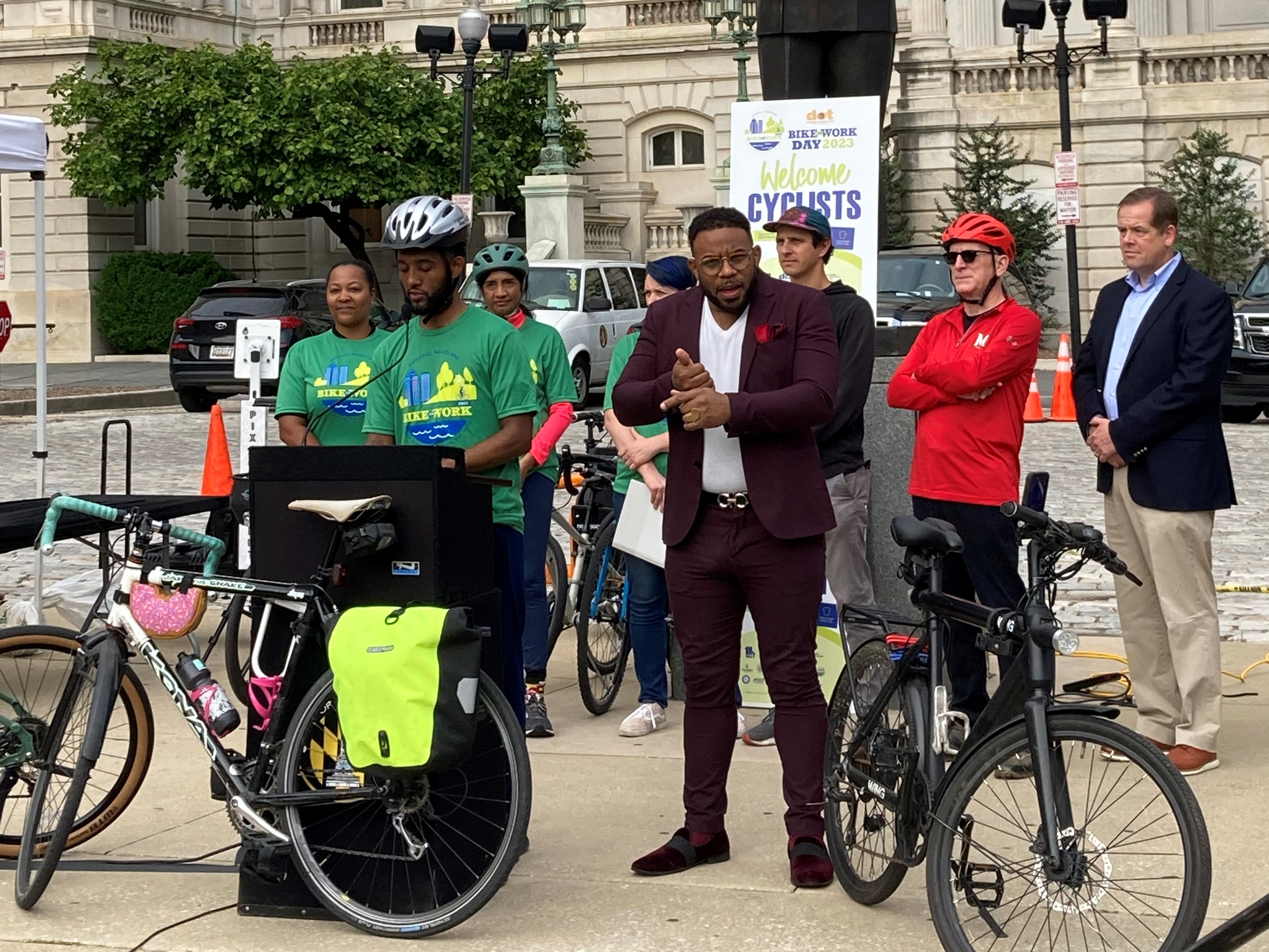 After cycling to City Hall on Bike to Work Day, Baltimore Mayor Brandon Scott, a BMC board member, said he was proud of progress on making biking safer and more accessible. "If you are looking for a clean commute," said Mayor Scott, "Invest in a bike."
Lieutenant Governor Aruna Miller, who has professional experience planning bike infrastructure for communities in Maryland, joined Mayor Scott and others for the ride through Charm City. She said that she and Governor Wes Moore are committed to making biking and other alternative modes of transportation safer, more accessible and more affordable, adding, "Let's grab life by the handlebars and keep on riding!"
Speaking alongside Mayor Scott, Lieutenant Governor Miller and others, BMC Executive Director Mike Kelly thanked all the people and agencies who have collaborated to grow Bike to Work in Central Maryland. He noted that the program has shifted away from an exclusive focus on biking to work and sought to include all biking trips, including commuting, running errands or just biking for fun.
"Consider biking everywhere – to the store, to school, to your favorite neighborhood library or park," Kelly said. "It's good for your health, for your wallet and for the environment."
Beloved Bike to Work Pit Stops returned this year to City Dock in Annapolis with Anne Arundel County Executive Steuart Pittman and Annapolis Mayor Gavin Buckley, Landon C. Burns Park in Westminster and off Main Street in Bel Air. Also in the mix were new events at Penn Station, Patterson Park, the National Aquarium and other spots. Hundreds of riders claimed free t-shirts at our events and Pickup Spots, and seven lucky registrants also won $100 gift cards to the bike shops of their choice.
Planning is underway for Bike to Work 2024, which will run May 13-19.
Bike to Work Central MD is supported by the generous sponsorship of the Baltimore City Department of Transportation, Downtown Columbia Partnership, Anne Arundel County Commuter Crew, Clean Air Partners, Go Howard, Baltimore and Carroll County Rideshare, Regional Transportation Agency of Central Maryland, Bike HoCo, Maryland Department of Transportation, Columbia Association, Harford Transit LINK and Harford County Public Library, as well as media partner WBAL-TV.

###
Baltimore Metropolitan Council (BMC) works collaboratively with the chief elected officials in the region to create initiatives to improve quality of life and economic vitality. As the Baltimore region's council of governments, BMC hosts the Baltimore Regional Transportation Board (BRTB) and supports local government by coordinating efforts in a range of policy areas including emergency preparedness, housing, cooperative purchasing, environmental planning and workforce development.
BMC operates its programs and services without regard to race, color or national origin in accordance with Title VI of the Civil Rights Act of 1964 and other applicable laws. Appropriate services can be provided to qualified individuals with disabilities or those in need of language assistance who submit a request at least seven days prior to a meeting. Call 410- 732-0500. Dial 7-1-1 or 800-735-2258 to initiate a TTY call through Maryland Relay. Si se necesita información de Título VI en español, llame al 410-732-0500.