BALTIMORE, MD (Wednesday, June 28, 2023) – The Baltimore Regional Transportation Board (BRTB) named Baltimore County Executive Johnny Olszewski as FY24 Chair in a June 27 vote. Howard County Executive Calvin Ball will serve as Vice Chair, a position Olszewski held in FY23.
"Expanding access to accessible, equitable, reliable, and resilient transportation is essential in building a stronger, more connected Baltimore region," says Olszewski. "It is an honor to lead such a dedicated group of public servants who share this transformational vision and are focused to doing all we can to make it a reality for all our residents."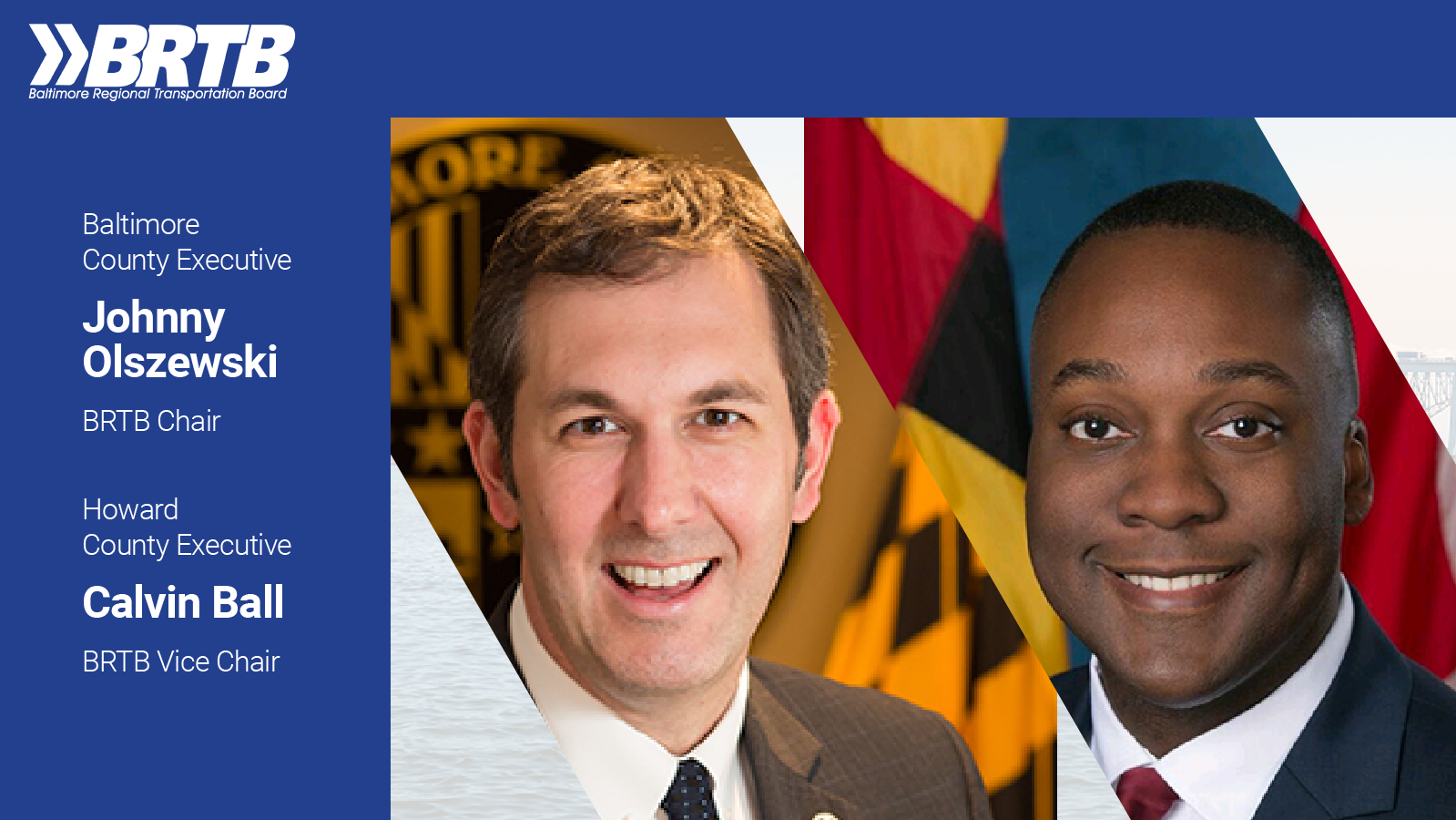 As the region's federally designated metropolitan planning organization, the BRTB includes elected leaders from Baltimore, Howard, Anne Arundel, Carroll, Harford and Queen Anne's Counties, Baltimore City and Annapolis as well as representatives of Central Maryland RTA, Maryland Transit Administration and the Maryland Departments of Transportation, Planning and the Environment.
The BRTB develops short- and long-range plans for regional transportation investments. The latest short-range plans include funding for ongoing projects such as connecting a 40-mile Patapsco Regional Greenway trail network, making historic town centers more accessible and improving stretches of I-695, I-70 and I-95 in Baltimore County, among other corridors around the region. Meanwhile, the recent Resilience 2050 long-range plan anticipates unprecedented funding for transit, including an east-west corridor, and favors projects prioritizing safety, multi-modal accessibility and climate resilience.
"Our residents deserve a modern transportation system that is safe, reliable and responsive to the needs of our communities," says Ball, who also chairs the Board of Directors of Baltimore Metropolitan Council (BMC), which staffs and supports the BRTB's work. "I look forward to working with County Executive Olszewski and all our partners in the region to realize this vision."
Todd Lang, BMC's Director of Transportation, thanked Olszewski, Ball and the other BRTB members for working together to pursue common goals and help the region's communities thrive.
"The BRTB will no doubt be busy in the next year," Lang says. "We have a really strong team in place to meet this moment."
The BRTB's next meeting will take place on Friday, July 21 at 9 a.m. Members of the public are welcome to join in-person or online, and can sign up to make a formal public comment during the meeting.
###
Baltimore Metropolitan Council (BMC) works collaboratively with the chief elected officials in the region to create initiatives to improve quality of life and economic vitality. As the Baltimore region's council of governments, BMC hosts the Baltimore Regional Transportation Board (BRTB) and supports local government by coordinating efforts in a range of policy areas including emergency preparedness, housing, cooperative purchasing, environmental planning and workforce development.
BMC operates its programs and services without regard to race, color or national origin in accordance with Title VI of the Civil Rights Act of 1964 and other applicable laws. Appropriate services can be provided to qualified individuals with disabilities or those in need of language assistance who submit a request at least seven days prior to a meeting. Call 410- 732-0500. Dial 7-1-1 or 800-735-2258 to initiate a TTY call through Maryland Relay. Si se necesita información de Título VI en español, llame al 410-732-0500.